Case Study: Jennette's Pier On-Site Wastewater Solution
Jennette's Pier On-Site Wastewater Solution
Nags Head, NC
Originally built in 1939, Jennette's is the oldest fishing pier on the Outer Banks. North Carolina's Outer Banks has long been known for its spectacular fishing. Red drum, bluefish, striped bass, flounder, and king mackerel are just some of the prized fishes sought by anglers young and old.
Fishing on the banks was forever changed when the first fishing pier—Jennette's Pier— was opened in Nags Head back in 1939. Battered by storms and rebuilt many times throughout its seventy-year life, Jennette's was knocked down by Hurricane Isabel in 2003, just after the pier and its five-acre tract were purchased by the NC Aquarium Society.
Now, after years of planning and twenty-four months of construction, Jennette's will reemerge in 2011 as a one-of-a-kind educational ocean pier. The Aquarium-operated complex will feature educational classrooms and programs, alternative energy demonstrations, live animal exhibits, meeting facilities, a snack bar, and tackle shop, and a host of other displays and features for good family fun….with great fishing too!
Unique solutions required
Anticipating that this location will once again draw large crowds, a responsible wastewater solution had to be found to protect this valuable resource.
Project Scope—Advanced Treatment Required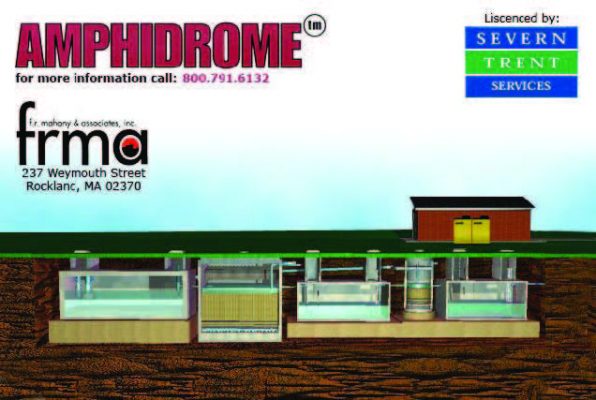 The Jennette's Pier project was designed by Bowman Murray Hemingway Architects and Quible Engineering & Associates, P.C. The project was designed for the Department of Environmental and Natural Resources for the North Carolina Aquarium Pier at Nags Head.
The Amphidrome® Treatment System was furnished by F. R. Mahony & Associates, Inc. of Rockland, MA who also furnished the remainder of the treatment equipment to the General Contracting firm of Basnight Construction Co. Inc., Manteo, NC.
The Wastewater Treatment System at Jennette's Pier provides full wastewater treatment to remove BOD, TSS, nitrogen and phosphorus, and turbidity. The Amphidrome Plus treatment process removes organic and solid wastes and provides a very high removal of nitrogen.
The membrane filtration system further removes phosphorus and turbidity. Final (UV) Ultraviolet disinfection follows these treatment steps to provide very high-quality re-use water. This advanced treatment system allows for above-ground discharge to an infiltration pond and provides for full re-use water for toilet flushing making this a truly "green" solution to wastewater disposal.
Amphidrome System—For Re-Use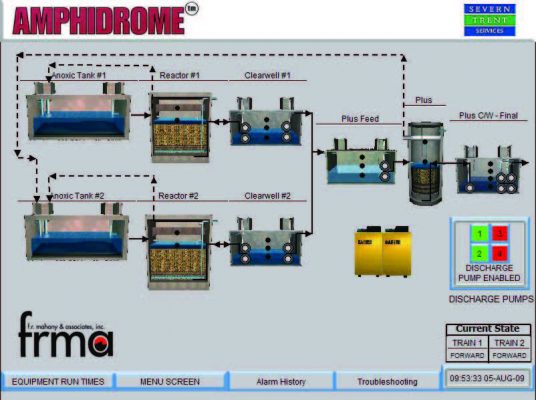 The Amphidrome system utilizes two tanks and one sub-merged attached growth bioreactor, subsequently called Amphidrome reactor.
The first tank, the anoxic/equalization tank, is where the raw wastewater enters the system. The tank has an equalization section, a settling zone, and a sludge storage section. It serves as a primary clarifier before the Amphidrome reactor. This Amphidrome reactor consists of the following four items: underdrain, support gravel, filter media, and back-wash trough. The underdrain, constructed of stainless steel, or HDPE encased concrete block, is located at the bottom of the reactor. The underdrain provides support for the media and even distribution of air and water into the reactor.
Air laterals are provided to distribute the air evenly over the entire filter bottom. The design allows for both the air and water to be delivered simultaneously, or separately via individual pathways to the bottom of the reactor. The system utilizes an automated PLC control system with a touch screen interface to provide the operator easy access to process controls.
This system is in use throughout the United States and internationally and has been in use since 1996.
Vital Statistics for Jennette's Pier Amphidrome
NC Discharge Limits
Monthly Average – Daily Limits
BOD</=10 mg/l – 15
Ammonia </= 4 mg/l – 6
TSS </= 5 mg/l -10
Fecal 14/100 ml – 25/100
Monthly Average
Nitrate </= 10 mg/l
TN </= 7 mg/l
TP </= 3 mg/l
Daily Maximum
Treatment Plant – Dual Train Amphidrome® Plus 15,000 gpd
(2) Anoxic/Equalization Tanks @ 14,000 per train
(2) 9.5 by 10.5 ft. Amphidrome Reactors
(2) 12,000 gallon clear wells/Plus Reactor Dosing Tanks
(1) Plus Reactor Pump chamber 4 ft dia.
(1) 3,000 gallon Membrane Filtration feed tank
(1) PALL Processing Aria AP-1 Package Filtration Unit
UV In vessel Disinfection Unit
(1) 500 cfm Tub Scrubber with Mist Eliminator
Collection System