Cummins-Wagner has surplus inventory available for purchase at significantly reduced prices.
Click HERE for a complete listing of all discontinued new surplus stock.
Contact: Your Cummins-Wagner/Siewert Equipment Sales Rep or Bill Fischer, Purchasing and Inventory Control Specialist, bfischer@cummins-wagner.com, 240-542-5527.
The following pre-owned equipment items are currently available for purchase:
Champion model 12TD7VTS25
– 7.5HP 460 volt duplex single stage (100 PSI maximum)
– oil free with aftercoolers
– auto tank drain
– 240 gallon tank
– duplex control panel with disconnects mounted and wired
Compressor #1 has 724 hours run time; #2 has 897 hours.  Comparable new machine price is $24K.
This nearly new package manufactured in 2000 is offered at $6,500 FOB Annapolis Junction, MD.

Contact Justin Radebaugh @ 240-542-5573
or e-mail: JRadebaugh@cummins-wagner.com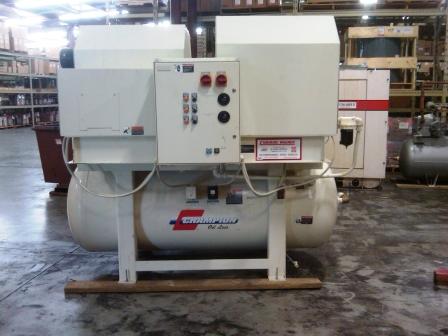 Cameron Turbo-Air 2000, Oil- Free Air Compressor
350 HP • 480 V • 1609 CFM @ 125 PSI • 60 Hz
• Electric Motor
• QUAD 2000 Control System
• Inlet & Blow-off Valve Control
• Inlet Filter
• Mounted Water Manifold
• 3-Stage Vibration Monitoring
• 2nd Stage Inlet Rtd
• 3rd Stage Inlet Rtd
• System & Discharge Pressure Transmitter
• Discharge Check Valve
• 6-Month Compressor Warranty / 1-Month Motor Warranty
• Lubricant (30 gal)
• Zero-Loss Condensate Drain (3)
• Automatic Block Valve
• Oil Filter Differential
• Benshaw Solid State Starter
TOTAL PACKAGE COST:  $96,000
The above item is offered FOB Elizabethtown, PA.
Contact Jeff Stoudt @ 800-989-8294 or e-mail: jstoudt@cummins-wagner.com