FRMA/Advanced Treatment Systems
Customized Wastewater Process and Pumping Solutions for over 55 Years

Our F.R. Mahony staff has extensive experience in wastewater treatment and nutrient reduction technologies, as well as customized wastewater pump stations, retrofits, and controls.
We specialize in Customized Onsite Treatment solutions for Ammonia oxidation and Total Nitrogen reduction. Our experience, backed by hundreds of installations of varied flow and effluent requirements, gives us the know-how to provide the right system for you.
TREATMENT SYSTEMS
Amphidrome®, Amphidrome® Plus™, Amphidrome® ColdNite®,   Extended Aeration, Membrane Bioreactors, Rotating Biological Contactors, Tertiary Filters, Customized Systems for Re-Use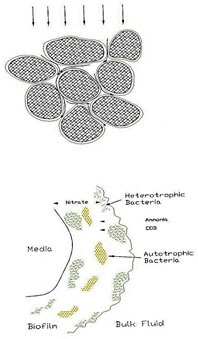 NITRIFICATION
Cold Temperature Effluent Nitrification for Lagoons and Plant Upgrades (ColdNite® Process), High Nitrogen Recycle Streams (AOX® Process)
DENITRIFICATION
Denitrification Filters, High Nitrogen Recycle Streams, Submerged RBC's, M-Pace® Carbon Pacing System, TOC Reduction Amphidrome® EnBAC™
TOC REDUCTION
Amphidrome® EnBAC™
PHOSPHORUS REDUCTION
Customized Systems
CUSTOM DESIGNED PUMP STATIONS
Complete Fiberglass Stations, Components for Concrete Stations, Custom Controls, Remote Access, and Control
Amphidrome®
Highest Level of Wastewater Treatment Lowest Site Impact
The Amphidrome® system is an affordable, energy-efficient, customized onsite wastewater treatment solution designed to fit your site constraint and regulatory requirements.

It can be customized to provide an effluent low in ammonia, total nitrogen (TN), phosphorus TOC and/or a re-use quality effluent for irrigation and/or toilet flushing.
Utilizing Biologically Active Filter (BAF) high biomass technology, the system provides simultaneous removal of BOD, ammonia, suspended solids and nitrate-nitrogen in an extremely small footprint.